Energy's Future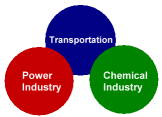 Biodiesel: The Road Ahead
In the U.S. alone, biodiesel capacity has grown more than seven-fold since 2004. Today, growing demand for this renewable transportation fuel is helping to drive a flurry of grassroots expansions and technology innovations worldwide, including advanced reactor designs, novel catalysts, and other process improvements.
Novel Power Generation Strategies
Engineering advances related to both coal and biomass gasification, and the use of solar and wind energy, are helping change the face of power generation, by enabling commercial-scale electricity production that has significantly reduced fossil fuel use and environmental impact.
Ethanol as a Transportation Fuel
Learn how various alcohols and alcohol mixtures function in an internal combustion engine.