A Visit to Australia's First Fuel Cell
Australia's first fuel cell, situated in the Australian Technology Park outside of Sydney, is the first commercial fuel cell installed in Australia. The fuel cell uses methane (natural gas) passed through a steam gas reformer as a source of hydrogen and air as an oxygen source. It utilizes phosphoric acid as an electrolyte. The cell is used to produce water as well as DC power.
The steam gas reformer releases carbon from the natural gas as CO2 and sulfur is scrubbed from the gas. Recycled hydrogen (not converted in the cell) is used as an energy source in the reformer. The fuel cell reduces greenhouse gas emissions by 68%.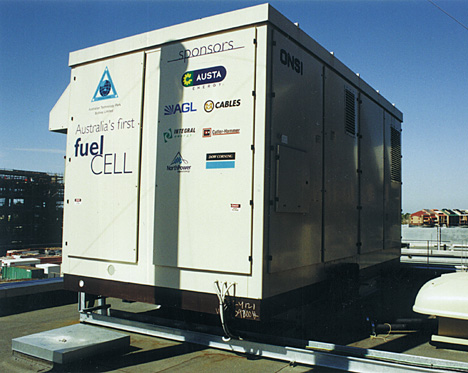 Australia's First Commercial Fuel Cell
The fuel cell has a 40% thermal efficiency and a 40% electrical efficiency for an overall efficiency near 80%. The hot water (at 650C) will be used by a nearby hotel. The electricity output is rated at 200 kW and is backed up by a diesel generator. The fuel cell has a life expectancy of about 20 years. An extensive cell stack overhaul is required after 5-7 years. Filter cleaning is required every 3 months. The cell is constantly monitored remotely by the manufacturer. The manufacturer performs daily diagnostic check on the cell to ensure smooth performance.