Pumping Caprolactam
ChE in Action: ITT Industries
In 1994, the Belgian company Domo, a leading European manufacturer of floorings, took over the caprolactam complex in Leuna. The reasons were self-evident: The caprolacta produced in Leuna is the chemical feedstock for manufacturing the chemical fibres which are then woven into carpets. For this purpose, the caprolactam is polymerised and spun into yarns (polyamides, e.g. nylon), which are further processed into carpeting at the Domo carpet factories in Belgium and Germany. Since acquiring this stake in Leuna, Domo has not only invested in the traditional line of caprolactam production, but has also set up a ultramodern, integrated production system ranging from the raw material through the polymer and yarn right down to the carpet. This vertical integration results in a crucial competitive edge in a hard-fought market.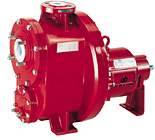 Since completing its comprehensive modernization and capital expenditure program in 1998, Domo Caproleuna GmbH now has the capacity to produce 100,000 tons of caprolactam per year with its roughly 450-strong workforce. This program included, for example, the installation of various new plants for producig caprolactam feedstock and side products such as cyclohexanone, hydroxylammonium sulphate, as well as the extension and modernization of the phenol plant.
Unexpected Problems With Conversion
After changing the Raschig process previously used to produce hydroxylammonium sulphate over to selective NO hydrogenation, the company encountered unexpected problems. Owing to the change in hydroxylammonium sulphate production - this in the inorganic feedstock for caprolactam synthesis - a diluted nitric acid is produced which results in substantial amounts of dissolved NO and NO2 gases.
Such readily gassing media are extremely critical for standard centrifugal pumps: conventional centrifugual only convey liquids easily, whereas with high gas contents, such pumps soon reach their physical limits. In practice, gassing quickly leads as a rule to the formation of a gas cushion at the highest point in the pump casing - with the fatal result that fluid conveyance stops abruptly. It is consequently essential to allow for any expected high gas contents when designing the plant and to inform the pump manufacturer accordingly. However, this very measure was omitted because Domo Carproleuna was not expressly notified at the planning stage that gas contents between 15 and 20% were likely.
After the start-up of the new plant, the operating staff were therefore confronted with serious problems. The Hydroxylammonium sulphate is kept in an intermediate tank, so that any faults do not have a direct impact on continuous caprolactam production. However, the staff had to be continuously on the lookout and, when they discovered that conveyance had stopped, needed to vent and restart the pump. Owing to the regular disruptions to conveyance, the pumps - horizontal frame-mounted centrifugal pumps - had to be vented and started up again once or even twice during every 12-hour shift: an untenable situation. Starting up a pump is very difficult, and great care must be taken with the pressure valve until the required flow rate is available again. The staff were therefore kept preoccupied with this work for two to three hours every shift. This state of affairs was, of course intolerable. However, the problem could not be overcome with the pumps that were initially installed, and even the use of an open impeller was unsuccessful owing to the very high gas contents.
Decision in Favor Of MNK-S Pumps
The company then decided in favor of a self-priming pump which vents itself thanks to its unique design. For cost reasons, it was not to be a pump make of special metals, but rather a plastic-lined pump. The magnetic-clutch MNK-S pumps were finally chosen.
Caproleuna did not have any previous experience with the pump series. As the level of the gas contents still gave cause for concern, a trial contract was initially concluded for a period of six months. After the successful completion of this trial phase, Caproleuna purchased the installed pump and also ordered another two units.
Design Features of the Chemical Centrifugal Pumps
The PFA/PTFE-lined chemical centrifugal pumps in the MNK-S series with a magnetic clutch and the SCK-S pumps with a double mechanical seal convey corrosive and hazardous media. They prime themselves automatically when the suction line is empty and operation is almost pulsation-free. Three parameters characterize the performance of these self-priming pumps; the possible suction lift, the maximum delivery head and the back-pressure compatibility. The MNK-S draws in media with a density of 1.0 kg/l up to 6 m WC and conveys them at 2900 rpm to a maximum of 40m LC. During priming, these pumps have an extremely good back-pressure compatibility with 18 m WC. Priming vessels are no longer needed. When the medium is conveyed, air pockets in the suction line are readily transported, so that the pump can also be vented against the system pressure or full discharge lines.
One typical application entails emptying of stationary and mobile vessels from the top. Vessel discharge nozzles below the liquid level are no longer needed, which also means greater safety. High-maintenance, large-volume submersible pumps as well as oscillating displacement pumps can be replaced by these centrifugal pumps, which are installed in dry locations. The characteristic features of this series at a glance:
Robust design - pump casing made of ductile cast iron with a thick lining of PFA/PTFE (bearing pedestal in ductile case iron, impeller in PFA with stable metal core);
Hermetically tight - slide-in unit of the time-tested MNK magnetic-clutch pump, eddy-current-free can system and Safeglide-Plus plain bearings;
No expansion joints required;
Connection for casing drain,
Hydraulically optimized delivery chamber with a short priming phase and high efficiency.
Positive Operating Experience
After installation of the MNK-S pumps, the Caproleuna staff no longer had to waste time venting and restarting failed pumps and above all, the high safety standard was greatly appreciated. Since then the company has enjoyed trouble-free operation, virtually leaving the process up to the process control system.
The trial phase was completed two years ago and the pumps are still running trouble-free.
Read More ITT Industry Pumping Systems

In the market for this type of solution? Let the people at ITT Industries know that you found them at www.cheresources.com!
Contact: Thomas Martin, ITT Industries
Tom.Martin@itt.com