NOx Reduction Plan
The U.S. Environmental Protection Agency (EPA) approved New Jerseyís revised plan to reduce certain air pollutants in accordance with the provisions of the EPAís Clean Air Interstate Rule (CAIR). This rule will permanently cap emissions of sulfur dioxide (SO2) and nitrogen oxides (NOx) in the eastern U.S. New Jerseyís revised plan was deemed consistent with federal standards as well as beneficial to the health of the state and its neighbors.
New Contracts
CB&I won two to provide sulfur recovery complexes at refineries in California and Texas. The California contract includes engineering, procurement and modular fabrication of a 200 long tons/day sulfur recovery unit and an associated tail gas treating unit at a refinery in the San Francisco Bay area for $50 million. The second contract includes engineering, procurement and modular fabrication of a 225 long tons/day sulfur recovery unit and associated tail gas treating unit in Texas for $50 million.

Expansion
Mexicoís Pemex has awarded Swecomex a $44 million contract to expand the capacity of the firmís Morelos petrochemical complex in Veracruz by 25%. This expansion will raise the unitís ethylene oxide production from 225,000 tons/year to 280,000 tons/year. This expansion is a result of increased demand for this product. Derivatives of ethylene oxide are used to make anti-freeze, automobile dashboards, plastic bottles, boat hulls, cosmetics and biodegradable detergents.


Acquisition
Eastman Chemical Co. has exercised its option to purchase Terra Industries Inc.ís Beaumont, Texas assets, including its methanol and ammonia production facilities. The sale should close on or before January 1, 2009. Eastman will incorporate the assets into its $1.6 billion industrial gasification project under development in Beaumont.


Layoffs
3M Company is laying off about half of the 500 employees at its Columbia, Missouri plant by next summer. This is a result of the companyís phase out of its flexible circuits business at that plant, moving the operations to California and Singapore. The Columbia plant will continue making electronic interconnects, medical diagnostic products and magnetic markers used in library security systems.
New Company
Sultan Qaboos has decreed the merger of Sobar Refinery Co. LLC with Oman Oil Refinery Company LLC in accordance with the provisions of Commercial Companies Law. The retirement procedures and rules at Oman Oil Refinery Co. LLC will be applicable to employees transferred from Sohar.

New Office
Sasol has opened an office in Shanghai, China to market its diverse range of chemical solvents throughout the country. Sasol Chemicals Shanghai Co Ltd (SCS) will initially market products from the global Sasol Solvents business. This business supplies a wide range of products, including glycol ethers, C3/C4 alcohols, esters and acids, ethanol ethyle acrylate, fine chemicals and aldehydes, glacial acrylic acid, ketones, methanol, n-butyl acrylate and mining chemicals.

Production Increase
Sasol plans to increase its octane production at its Secunda plant in South Africa by 10,000 tons/year as well as double its methyl iso-butyl ketone (MIBK) output at its Sasolburg plant near Johannesburg. Octene is a comonomer that is used in the production of plastics. MIBK is used largely as a solvent in surface coatings.

New Contract
CB&I was awarded a contract to design and build a storage tank for the Borouge 2 petrochemical project expansion in Ruwais, Abu Dhabi in the United Arab Emirates. The project is intended to increase the unitís polyolefins annual production capacity to two million tons. The $40 million contract includes the engineering, procurement, fabrication and construction of a new low temperature storage tank and all associated electrical, mechanical, instrumentation and controls work. Project work should be completed in 2009.

Expansion
ExxonMobil Chemical will expand its Rotterdam Aromatics Plant. The expansion will increase the companyís paraxylene production capacity by 25% and benzene production capacity by 20%. The project is targeted to help meet growing European demand for paraxylene and benzene. Construction will begin this year.

New Plant
Solutia Inc. has opened a new polyvinyl butyral (PVB) plant in Suzhou, China. The plant was developed as a full-scale facility that currently produces Salfex interlayer for the automotive market, with room for future capacity to serve the architectural market as well. The current manufacturing line was designed to produce 10 million square meters of Salfex interlayer/year with space for further expansion as necessary.


Distribution Network Enhanced
Dow Europe GmbH and Univar Products International NV will market and distribute the Dow range of specialty surfactants to European Customers. Univar will become the distributors for DOWFAX Anionic, TERGITOL Nonionic and the TRITON Anionic and Nonionic product lines in Finland, Sweden, Denmark, Norway, Belgium, The Netherlands, Luxembourg, Ireland, Great Britain, France and Italy. The products will be available from the local Univar entities and centrally managed by Univar Products International. This partnership will provide customers with enhanced access to technical developments and regulatory information, supply security and responsive commercial and technical contacts.
What is a proven, reliable way to remove condensate from a reboiler using steam as the utility?

I introduced the same type of condensate removal from a large thermosyphon reboiler on a Furfural Stripper back in 1970. I needed efficient steam condensate removal on a continuous basis, 350 days a year for a relatively large flow of condensate. I developed my system and applied it and it worked successfully for a very long time – well over 20 years I'm told. I know of this because I received an email from a friend on the Eng-Tips Forum who lives in South Africa. He told of receiving some P&IDs and calculations on a Furfural design that he was to check over and approve for possible installation in South Africa. The documents had my name on them and they showed a thermosyphon reboiler complete with a level control on a condensate pot instead of a conventional "steam trap". My friend deduced that perhaps this was my product and since he never had seen this application before, decided to write me to find out. He was being told to copy the design since it had worked successfully for many years on the original plant site at Cedar Rapids, Iowa and he wanted to know as much as he could about it so that he could duplicate it in South Africa.

Below is a brief sketch of what is involved and how it is piped. I am sure you have the same – if not, identical – arrangement, but I want to make sure and be as clear as I can. This type of system is not new – nor is it that unique – unless you have been "raised and trained" on exclusively using steam traps. I consider this system the same as a steam trap – except that it is more adaptable to large systems and can be engineered to control the available surface area of a reboiler tube bundle and thereby give you turn-down capacity control. I would point out the following important points to bear in mind when applying this type of reboiler condensate control:

1. It is very important to make sure that the condensate receiver is properly vapor-balanced with the top of the reboiler tube bundle. This is to allow free and ample condensate gravity flow. Note that I said gravity flow. You must allow proper line sizes that minimize the pressure drop and allow for venting. The vapor balance line ensures that no non-condensables will collect at the top of the condensate receiver and stop the gravity flow of condensate. You must ensure that the steam chest around the tube bundle is purged of all non-condensables – as is required in all steam-heated exchangers. I usually make this line size 1" to 1-Ŕ in size to give generous capacity and mechanical rigidity.

2. Make sure that you design your condensate control valve properly, taking into consideration the amount of flashing that is going to take place. Don't forget that the result downstream will be a 2-phase flow and that it can be erosive/corrosive.

3. Locate your condensate receiver well below (as much as possible) the level of your botton tube sheet (if you are using a vertical thermosyphon reboiler) – or below the lowest formation point of condensate within your reboiler. Again, remember that this is gravity flow; you have nothing else helping you move this condensate out of the tube bundle and out to the receiver, so make your condensate outlet line as generous as you can justify.

4. Your tube bundle should have no condensate accumulation around it; this is why you should try to locate your condensate receiver as low as possible to drain all condensate the moment it is formed around the tube bundle. This gives a maximum efficiency to the reboiler and greatly facilitates the efficiency of condensate removal.

5. This type of condensate receiver is nothing more than a "wide spot in the line" – but it is an important wide spot. It needs to fulfill a variety of process necessities and you should spend time thinking about them. You should decide the size of the vessel required by considering the condensate inventory you need for operability, positive control, maintenance, and space requirements. Usually the residence time for the condensate is fixed by considering the amount of time you require to react to a low or high level alarm or reading on the level control. You really normally don't require any more condensate inventory than that which is necessary to maintain a positive liquid seal and the amount that gives you time to react to a low or high level alarm read-out. Knowing this, you may come out with a vessel size that is small enough to justify a Stainless Steel construction – which would save you a lot of worry and maintenance costs due to future corrosion being arrested by the stainless construction. Don't forget that you have now removed concentrated potential corrosive condensate from the reboiler into the receiver. In fact, you might be able to make it out of a piece of large pipe. The residence time and the L/D ratio is strictly up to your operating and process needs, as I've stated above. Usually, an L/D of 2.5 – 3 is what most engineers come up with.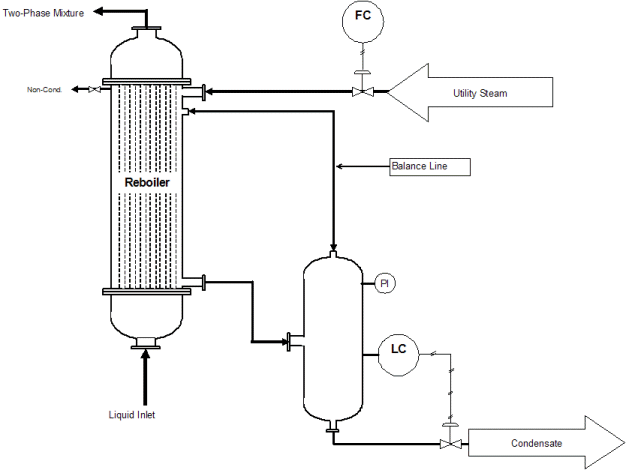 Art Montemayor via Cheresources.com Forums