Chemical Industy News from the U.S.
Chemical Industry News from India
Technically Speaking

Chemical Industry News from the U.S.

Trona production increased


Solvay Chemicals Inc. is expanding its trona production in Green River, Wyoming, to accommodate for the growing market for emissions control. Production of high-assay T-200 trona will be increased from 80,000 tons/year to 320,000 tons/year. Capacity for coarse T-50 trona will rise from 120,000 tons/year to 350,000 tons/year. T-200 trona is primarily used by power plants to control acid gas emissions, mainly sulfur trioxide, which is a main component of visible air pollution. The coarse trona is used in animal feed as a rumen buffer, in cement manufacture for sulfur control kilns and as a sodium solution, and for pH control in the recycling of lead batteries.

TPU expansion
BASF has increased the North American production capacity of its Elastollan thermoplastic polyurethanes (TPU) business by roughly 10 percent. This was accomplished by de-bottlenecking its Wyandotte, Michigan manufacturing site. BASF is advancing technologies as part of its mass customization system in order to meet growing customer demands.

Production capacity increase
Trecate, the Italy-based Esseco Group and parent company of Esseco USA LLC, has approved plans to invest $10 million - $20 million in a new manufacturing plant in West Virginia. The plant is expected to be on line in early 2007. Capacity is planned for 60,000 tons/year combined of sodium metabisulfite, sodium sulfite and sodium bisulfite solutions.

New PPS plant
Chevron Phillips Chemical Company LP plans to build a new 22 million pound/year polyphenylene sulfide (PPS) plant next to its existing PPS plant in Borger, Texas. The new plant should start up in mid-2007. With this additional plant, Chevron will produce roughly 44 million pounds/year of PPS in Borger.

A new way to indulge in chocolate
Personal care formulators are discovering that tasting is not the only way to savor the delights of chocolate. Chocolate is becoming an increasingly popular ingredient for products in the personal pampering market, including shampoos, conditioners, body care products, bath scents, and scented candles. Last month, Dow Corning worked with Solabia Group to develop a prototype formulation for CocoaSlim, a recipe that combines chocolate mousse with skin cream. Solabia's formulation contains Dow Corning silicone waxes, fluids and powders for texture and skin-feel benefits and an active ingredient of their own that limits fat storage.


Chemical Industry News from India

Capacity doubled
Sathavahana Ispat Ltd. has doubled its hot metal installed capacity by commissioning auxiliary equipment as part of a modernization and expansion program. The increase allows for a capacity of 2.1 lakh tons/year from the existing level of 1.2 lakh tons/year.

ABS capacity to rise
Bhansali Engineering Polymers will expand and diversify through March 2007. The company will increase the manufacturing capacity of its acrylonitril butadiene styrene (ABS) resins to 200,000 tons/year as well as diversify into the manufacture of SBR latex and saleable SAN.

Two new units
Ipca Laboratories Ltd. will build two new manufacturing centers for formulations in Madhya Pradesh and Uttaranchal, the former exclusively for the overseas market, for Rs. 95 crore. The Indore plant will be USFDA-compliant and will cost roughly Rs. 80 crore and will be operational in 18 months. The Uttaranchal site will be a new formulations center for the domestic market built with the remaining planned investment and functional by March 2006.

New sulfuric acid plant
Mangalore Chemicals and Fertilizers Ltd. is planning to set up a sulfuric acid plant with a production capacity of 100 tons/day. The plant will be an investment of Rs. 12 crore and will likely be commissioned in October.

What are the typical operating ranges for filter presses?

Filter presses are capable of handling fine solids are varying flow capacities. A couple of limits to consider may be:

Up to 30% solids for flows up to 1 GPM
Up to 10% solids for flows up to 10 GPM
Up to 1% solids for flows up to 100 GPM
Up to 100 ppm solids for flows up to 500 GPM

The chart shown below is helpful in understanding this and the operating ranges of some other types of filtration methods.

Operating pressures of 100 psi are common, but 1000 psi is possible in some case. No specific information was available on the particle sizes that can be processed, but fine, powder particles are the most common.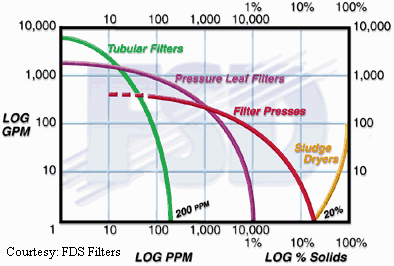 Reference: FDS Filters, www.fdsfilters.com