Shipments resume
BP plans to eventually resume ethylene shipments through the Cochin pipeline system to Ontario, Canada's petrochemicals hub in Sarnia after 2007. The shipments would resume only if there is a market for them, but BP plans to upgrade the pipeline in preparation for future shipments.
Site security statute
Congress is close to passing a comprehensive anti-terrorism statute that would give broad authority to the Department of Homeland Security (DHS) to establish and enforce chemical site security standards. Homeland Security committees in both the Senate and the House have passed similar versions of The Chemical Security Anti-Terrorism Act. Both versions authorize the DHS to: establish criteria based on risk of attack and possible fatalities to determine which of the 15,000 chemical production, storage and transit sites should be subject to DHS security regulation; assign regulated sites to tiers based on risk levels; define risk-based and performance-based criteria for chemical site security; require chemical facilities to conduct vulnerability assessments and create site security and emergency response plans, subject to DHS approval, addressing assessed vulnerabilities; and impose administrative penalties or even close facilities for noncompliance. Both bills also include chemical penalties, including fines and jail time, for willful violations of DHS security regulations. Neither bills preempt similar state legislation.
Closure
Dow will close its Peroxymeric Chemicals (PXC) business as a result of declining revenue and poor market conditions. Its Hahnville, Louisiana plant will close on October 31 and a smaller Bayer-operated unit in Institute, West Virginia is expected to close next August. Dow will still offer Cyracure photoinitiators to support its UV-care customers, including Cyracure and ERL cycloaliphatic epoxiders, Flexol EPO and LOE epoxidized oils, TONE polyols and TONE m-series caprolacrylate. PXC products are mainly used in electrical insulators and tapes, high-voltage coils and transformers, and automotive primers.
Push for chemical site security law
Department of Homeland Security Secretary Michael Chertoff is continuing to ask Congress for authority to set and enforce chemical plan security standards, warning that unprotected facilities put the U.S. at risk of terrorist attacks. Chertoff said that most chemical companies have voluntarily taken steps to improve security, but he doesn't believe all companies have increased security to an appropriate level, which puts everyone else at risk. Chertoff is advocating a balanced, common-sense approach for protecting chemical facilities, but wants to ensure that the federal mandate does not destroy the businesses that it is aiming to protect.
5 million pounds
Electronic Recyclers, California's largest recycler of electronic waste, says it is the first company in the state to have recycled more than 5 million pounds of electronic waste in a one-month period. The company believes the amount of electronic waste uncollected is staggering and expects that they will grow rapidly as more states follow California's lead and learn how to recycle electronics.
Project approvals
A Japanese petrochemical consortium led by Mitsubishi Chemical Corporation has been approved to go ahead with a foreign direct investment of Rs. 342 crore for the manufacture, marketing, sale and distribution of purified terephthalic acid (PTA) in West Bengal. Russian-based JSC Technochim Holding is setting up a joint venture with Saraf Agencies for the manufacture of titanium products at Chhatrapur in Orissa. Both ventures are among the 26 foreign direct investment proposals approved by the Finance Minister. The investment proposals relate to industry, chemicals, petrochemicals, petroleum and natural gas.
Looking to collaborate
Malaysian companies are interested in collaborating with their Indian counterparts to undertake projects in third world countries. Malaysian construction companies have completed 49 projects worth $2.10 billion in India to date and the companies are currently undertaking 12 projects with $889.20 million. Malaysian companies are looking to supply a wide range of manufactured goods that meet international quality and standards at competitive prices to India, including optical and scientific equipment, furniture, rubber products, transport equipment, auto parts and components, electronic products, plastic products, chemicals and chemical products.
Unconstitutional
Lawyers for the Indian units of Coca-Cola and PepsiCo have said that a regional ban on their beverages is unconstitutional, but a provincial government has defended the ban saying that the drinks are unsafe. The Communist rulers of the southern state of Kerala banned the production and sale of drinks made locally after an environmental group said the companies' products contained dangerous levels of pesticides. While sales are not large in the region, this ban has caused an image problem for both companies.
What are some important items to keep in mind when sizing condensate return lines?

Over the years, we've heard of many a condensate line that was undersized and suffered from severe pipe erosion (especially at bends). The most common mistake is that engineers fail to account for the flashing that occurs as condensate expands from high to low pressure.
Let's take a look at an example by utilizing a couple of key tools available here.
A 500 psig utility steam is used to heat a process stream in a shell and tube heater. After the heater, the condensate is pushed to a vessel which is at 150 psig prior to returning the the boiler. A total of 7700 lb/h of condensate is entering the vessel from the heat exchanger.
If the line is size assuming all liquid, then a nominal 1 or 1 1/4" line would easily suffice. However, we will not have all liquid. Remember that even a small amount of flash vapor can make a large difference is sizing a pipe.
The first tool that we'll employ is a spreadsheet called "Condensate Flash Calculator" (available in our online store). From the flash tank calculator, we get the results below: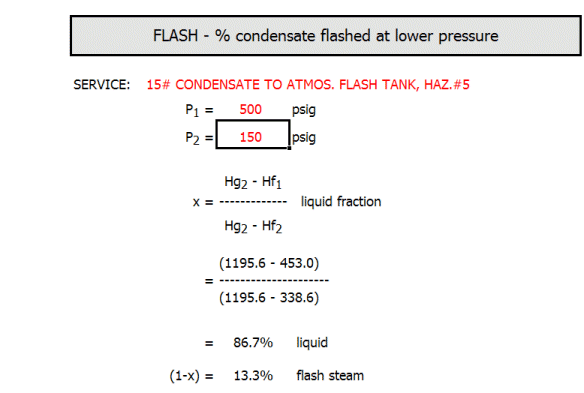 We see that there is 13.3% flash vapor that must be taken into account in the line sizing. The vapor density is 0.361 lb/ft3 and the liquid density is 55 lb/ft3.
Now, we can estimate the line size with a freely available tool called Two Phase Flow in Pipes. With the results below, we find that a 4" line is a little too small, but a 6" line seems be a good fit. We use a rule of thumb of a condensate velocity of 6.5 ft/s or about 2 m/s. As you can see, there's a large difference between a 1" line and a 6" line. This shows the importance of properly sizing a condensate line.