Chlor-Alkali Membrane Cell Process

Caustic soda (NaOH) and chlorine are produced by the electrolysis of an aqueous solution of sodium chloride (brine). Previous technologies used in the chlor-alkali process included the use of mercury and diaphragm

cells. Due to pollution concerns, the mercury cell technology has nearly been displaced as there are less than 10 of these plants operating in the U.S. Diaphragm cell technology is still in use, but newer plants are turning to a newer technology because the older diaphragm cells utilitze asbestos in the cells. The increased economics of the new membrane process are also a deciding factor.

The newest chlor-alkali processes rely on an ion-exchange membrane to separate the sodium and chloride ions of the sodium chloride. The ion-exchange membranes typically fluoropolymer based and can contain sulfonic acid groups. Figure 1 represents a condensed overview of a membrane cell process.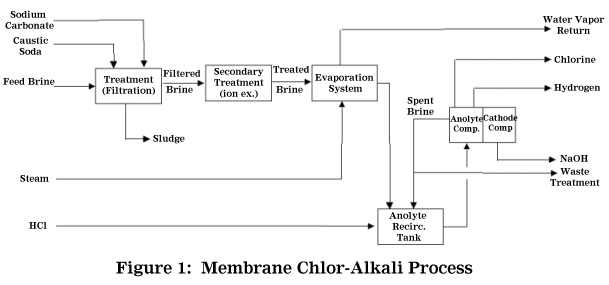 For a close up view of what a cell may resemble, see Figure 2 below. The overall reaction taking place is:
2 NaCl (aq) + 2 H2O (l) ---> H2 (g) + Cl2 (g) + 2 NaOH (aq)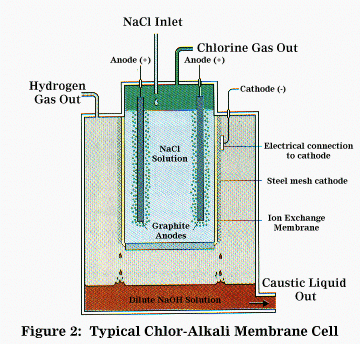 For details regarding the mass balance for such a system, as well as detailed information regarding the multi-effect evaporation system utilized, see European Patent Number EP 0 110 033 B1 at http://patent.womplex.ibm.com/