BOILER ECONOMIZERS

The concept is simple. You heat water with fuel gas. Then you use this heat elsewhere. But what about the heat that doesn't

get transferred to the water....the heat that escapes in the boiler's flue gas. Some people, especially those new to industry, forget about this valuable heat. Going a step further in heat integration shows how to effectively pre-heat the water entering the boiler by using the flue gas in a boiler economizer.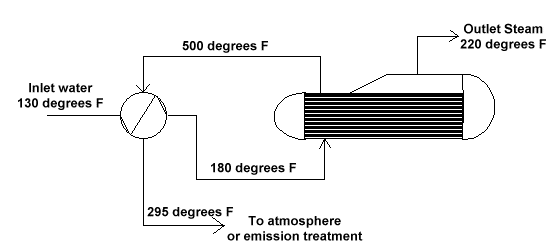 The temperatures are of course dependent on flowrates, equipment size, heat transfer coefficients, and pressure. Using an economizer setup such as this can drastically reduce the amount of fuel gas used in the boiler. Also note that finned tubes can help compensate for the poor heat transfer on the flue gas side of the economizer.
FOR MORE INFORMATION ON BOILER ECONOMIZERS, CHECK OUT WWW.BOILERROOM.COM