Plastic Piping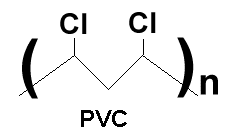 Polyvinyl Chloride (PVC)
Rigid polyvinyl chloride (PVC) contains a good combination of long-term strength and high stiffness. These characteristics have made PVC the principal plastic pipe material for both pressure and nonpressure applications. An example of a nonpressure application may be using PVC as an electrical conduit.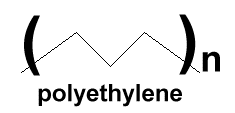 Polyethylene
Polyethylene retains its strength and flexibility even at subfreezing temperatures. Coiling is even possible with small diameter polyethylene pipe which is why it is used for gas distribution and water services. Polyethylene is also abrasion resistant. Common uses also include chemical transfer, power ducts, and sewage mains. In some instances, the polyethylene molecules are crosslinked in order to raise the maximum operating temperature up to 200 0F (93 0C). Common applications include under-floor heating systems, melting ice and snow, and hot-cold water systems.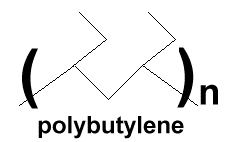 Polybutylene (PB)
Polybutylene is flexible, yet stronger than even high density polyethylene. However, its defining characteristic is that its strength increases at higher temperatures. It's temperature limits are 200 0F for pressure applications and slightly higher for nonpressure applications. Polybutylene is mostly used for hot effluent lines and slurry transportation due to its good abrasion resistance.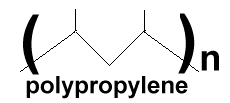 Polypropylene (PP)
Polypropylene shares similar properties with polyethylene. One key difference is polypropylene's excellent chemical resistance to organic solvents and some other chemicals. Due to polypropylene's chemical resistance, good rigidity and strength, and high temperature limits, it is used primarily for chemical waste movement. Polypropylene's key limitation is it moderate impact resistance.
Acrylonitrile-Butadiene-Styrene (ABS)
ABS is formed from three distinct monomer building blocks. Substances of these types are usually referred to as copolymers. The proportions of each substance will determine the physical properties of the final product. In this case, acrylonitrile contributes rigidity, strength, hardness, and chemical & heat resistance. Butadiene contributes impact resistance and styrene is added to increase the ease of processing. ABS is primarily used for drain, waste, and venting applications. However, one formulation of ABS has shown to be particularly useful for above-ground compressed air applications. Other plastic piping is seldom used for this applications due to the threat of flying fragments if a failure were to occur.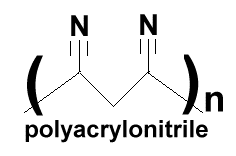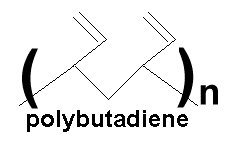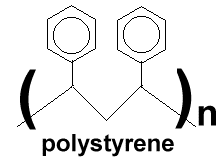 Physical Properties
In the following table, you'll note that different types of some of the materials are listed. The difference from one type to the next could be in the composition (ABS) or processing conditions such as in PVC.
Polymer
Type

ABS

PVC

PE

PB

PP

Type I
Type II
Type I
Type II
Type II
Type III
Specific Gravity
1.04
1.08
1.40
1.36
0.94
0.95
0.92
0.92
Tensile Strength
(lb/in2) x 106
4.5
7.0
8.0
7.0
2.4
3.2
4.2
5.0
Impact Strength
(ft lb/in notch)
6
4
1
6
>10
>10
>10
2
Coefficient of
Linear Expansion
(in/in 0F) x 10-5
5.5
6.0
3.0
5.0
9.0
9.0
7.2
4.3
Thermal Cond.
(Btu in/h ft2 0F)
1.35
1.35
1.1
1.3
2.9
3.2
1.5
1.2
Specific Heat
(Btu/lb 0F)
0.32
0.34
0.25
0.23
0.54
0.55
0.45
0.45
Operating Limits
0F, nonpressure
180
180
150
130
130
160
210
200
0F, pressure
160
160
140
120
120
140
200
150
Applications
The following table can be used to help determine if any of these plastic pipe materials may be suitable for your type of chemical application:
** G=Good, P=Poor, blanks spaces indicate limited knowledge..testing required
Polymer
Type

ABS

PVC

PE

PB

PP

Type I
Type II
Type I
Type II
Type II
Type III
Inorganic Compounds
Acids, Dilute
G
G
G
G
G
G
G
Acids, concentrated 80%
G
Acids, oxidizing
P
P
P
P
P
G
Alkanies, dilute
G
G
G
G
G
G
G
G
Alkalies, concentrated 80%
G
G
G
G
G
Gases, acid (HCl and HF wet)
G
G
G
G
Gases, acid (HCl and HF dry)
G
G
G
G
G
Gases, ammonia dry
G
G
G
G
G
Gases, halogens dry
G
Gases, sulfur dry
P
P
G
G
G
G
Salts, acidic
G
G
G
G
G
G
G
G
Salts, basic
G
G
G
G
G
G
G
G
Salts, neutral
G
G
G
G
G
G
G
G
Salts, oxidizing
G
G
G
G
Organic Compounds
Acids
G
G
G
G
G
G
G
G
Acid anhydrides
Alcohols, glycols
G
G
G
Esters, ethers, ketones
P
P
P
P
Hydrocarbons, aliphatic
G
Hydrocarbons, aromatic
P
P
P
P
P
P
P
G
Hydrocarbons, halogenated
P
P
P
Natural gas (fuel)
G
G
G
G
G
G
G
G
Mineral oil
G
G
G
G
G
G
Oils, animal and vegetable
G
G
G
G
G
G
Synthetic gas (fuel)
G
Reference: Rosaler, Robert C., The Standard Handbook of Plant Engineering, McGraw-Hill, New York, 1995