Chemical and Process Engineering Resources

Plate Heat Exchangers: Preliminary Design
Nov 08 2010 12:50 PM | Chris Haslego
in Heat Transfer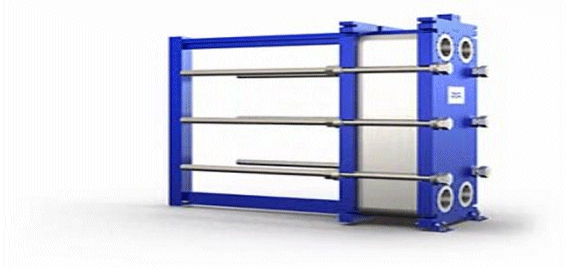 Design Charts for Plate and Frame Heat Exchangers
Often, in compact heat transfer technology, engineers find themselves at the mercy of the manufacturers of the equipment. For example, limited literature correlations are available to help in the preliminary design of plate and frame heat exchangers. We will introduce a series of charts that can be used for performing preliminary sizing of plate and frame exchangers. After introducing the charts, we will follow with examples to help clarify the use of the charts. The following should be noted regarding the use of the charts:
These charts are valid for single pass units with 0.50 mm thick plates. The accuracy of the charts will not be compromised for most materials of construction.
Wetted material thermal conductivity is taken as 8.67 Btu/h ft °F (value for SS)
Heat transfer correlations are valid for single phase, liquid-liquid designs
The following physical properties were used for the basis:


Table 2: Physical Property Data Used for Chart Construction
Hydrocarbon-
Based Fluids
Water-
Based Fluids
Thermal Conductivity
(Btu/h ft2 °F)
0.06
0.33
Density (lb/ft3)
55
62
Heat Capacity
(Btu/lb °F)
0.85
0.85

Degree of accuracy should be within ± 15% of the service value for the overall heat transfer coefficient, assuming a nominal 10% excess heat transfer area.
For fluids with viscosities between 100 and 500 cP, used the 100 cP line of the graphs. For fluids in excess of 500 cP, consult with manufacturers.
Download these design charts in MS Excel format from our File Repository.
Figure 2: Heat Transfer
Data for 0.25 < NTU < 2.0
for Plate and Frame
Heat Exchangers,
Water Based Properties
Figure 3: Heat Transfer
Data for 2.0 < NTU < 4.0
for Plate and Frame
Heat Exchangers,
Water Based Properties
Figure 4: Heat Transfer
Data for 4.0 < NTU < 5.0
for Plate and Frame
Heat Exchangers,
Water Based Properties
Figure 5: Heat Transfer
Data for 0.25 < NTU < 2.0
for Plate and Frame
Heat Exchangers,
Hydrocarbon Based Properties
Figure 6: Heat Transfer
Data for 2.0 < NTU < 4.0
for Plate and Frame
Heat Exchangers,
Hydrocarbon Based Properties
Figure 7: Heat Transfer
Data for 4.0 < NTU < 5.0
for Plate and Frame
Heat Exchangers,
Hydrocarbon Based Properties
Heat Transfer Articles