Recent Status Updates
Exploring the subtleties of Process Design
LPG Tanker loading
they are 5 now
Hi, I have started my own engineering consultancy in India. Converge Engineering Pvt. Ltd. For more information, please visit www.converge.net.in

Show comments (1)
Desperate for some help!
Chemical and Process Engineering Resources
How Can I Edit My Profile Settings?
Submitted Chris Haslego , Jan 13 2011 03:19 PM | Last updated Jan 13 2011 03:19 PM
Log in to the community section of the site at:
Community Section
Click on the "Sign In" link in the upper left portion of the screen.
After you login, click on "My Settins" in the upper right portion of the screen:

Next, you'll see a new menu with all of the options and settings that you can change under "My Settings":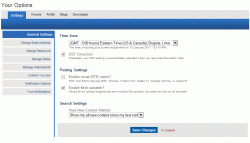 | | |
| --- | --- |
| Background Information: | I'd like to change some of my personal or public information, update my email address, change my password, or update my notification settings. |
Forum Quick Links
FAQ Category List