Recent Status Updates
Good or Bad, it does not come from other. its our own responsibility
what correlation to be used to correct two phase flow through orifie meter.
line size criteria for liquid and steam piping
Read my article at Linkedin: "Process Simulation Software - Don't be a Data Entry Operator"
stack
Chemical and Process Engineering Resources
Is there an easy way to generate a drawing for upload to the forums?
Submitted Chris Haslego , May 11 2011 10:14 AM | Last updated May 11 2011 10:16 AM
There is a great alternative to making icons yourself. If you have a Google Docs account, you use the "generate your drawings" link found above the attachment area in the post screen. If you don't have a Google Docs account, it free to create your own.
Once you click on the "generate your drawings" link, make a copy of the available template.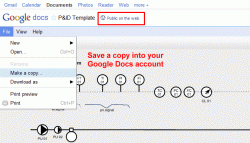 This will import the drawing template into your private Google Docs account. Now you can drag and drop the icons and create your drawing online. Then, download your drawing and JPEG image: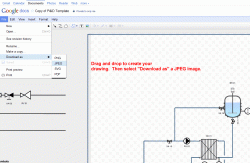 Now, you can upload your image directly into your post or drop it into an Excel spreadsheet and upload so that others can comment on it.
| | |
| --- | --- |
| Background Information: | It would be nice to have a standard set of process icons to use in drawings that I create. |
Forum Quick Links
FAQ Category List