Chemical and Process Engineering Resources
Where Do I Find the Sign In Link?
Submitted Chris Haslego , Jan 17 2011 02:24 PM | Last updated Jan 17 2011 02:24 PM
The community is designed to take advantage of newer browsers. Sometimes, older browsers can cause alignment problems. This is especially true with Internet Explorer version 8 running in "Compatibility Mode". The "Sign In" and "Register" links at the top of the page can overlap with IE 8 in compatbility mode:

In order to turn "Compatbility Mode" off, go under the "Page" option which is usually found in the upper right portion of an IE 8 window: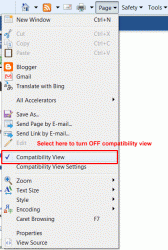 Once "Compatibility Mode" is turned off, the alignment at the top will return to normal:

and you'll be able to find the "Sign In" link.
Alternatively, we've added a new "Sign In" link to the Community sub-menu:

| | |
| --- | --- |
| Background Information: | I can't find the sign in link where I enter my login information for the Community. |
Forum Quick Links
FAQ Category List