Basics of Industrial Heat Transfer
Discover the basics of industrial heat transfer and learn how to perform a basic heat transfer analysis ....Read the full article.
Specifying Liquid-Liquid Heat Exchangers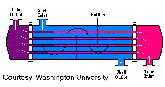 As an engineer, specifying heat exchangers for procurement is an important step in the successful execution of any heat transfer or energy conservation project.
....Read the full article.
Sand Bucket Elevator Problem Solved
A car part casting foundry was continually having to replace buckets, find out why and what was done to fix the problem....Read the full article.

Biosorption
Learn how biosorption is poised to blaze a new trail forward in the removal of heavy metals, even at low concentrations where traditional methods often struggle. Read the full article.
The Instantaneous Cost of Failure


When a failure incident occurs there is a consequential loss of profits and amassing of costs. The cost of failure includes lost profit, the cost of the repair, the fixed and variable operating costs wasted during the downtime and a myriad of consequential costs that reverberate and surge through the business....Read the full article.