Hello,
I am currently trying to troubleshoot a hot oil heater that is operating abnormally. The heated oil line (seen below in red) is Therminol-66. The oil heater is a 3 pass helical exchanger using natural gas as the source of heat.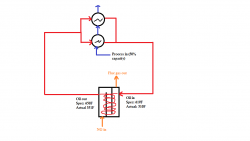 Currently the process (cold side) fluid, an evaporatable oil, is running at ~50% flow capacity. The two process exchangers normally have duties of 1.6MMbtu/h and 0.5MMbtu/h during full operating conditions. Simulated for current conditions (if the heating oil was at 650F as it should be) the duties are now 1MMbtu/h and 0.15MMbtu/h respectively. The hot Therminol-66 oil is running at it's full capacity. The burner is running at full capacity as well.
Additionally, the flu gas out of the stack temperature is much higher than we expect, at 830F currently versus the spec of 630F. This would appear that the heater was either undersized or damaged. The heater was opened and inspected for damage and none was found. The heater is rated for 2.4MMbtu/h which is more than our expected duty of 2.1MMbtu/h. Doing hand calculations I found the oil duty for the spec to actually be closer to 2.7MMbtu/h.
To summarize,
Spec:
Oil in: 619F
Flu out: 630F
Oil out: 650F
NG in: N/A
Current:
Oil in: 510F
Flu out: 830F
Oil out: 551F
NG in N/A
I'm thinking the that it is possible the approach temperature on the spec is too close, at only 11F apart it is quite narrow. But in current operation the flu outlet is 830F versus an oil in of 510F.
Any comments or suggestions would be greatly appreciated.