I have a tube bundle in a electric heater which was shown in the picture below. The tube bundle is covered with a fouling layer and some condensate stuff. Would you suggest me any method to clean this bundle? We tried with water jet but it is not much efficient because the spaces between tubes are quite small
Thanks for your time.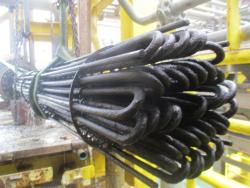 Edited by VietCuong, 15 May 2019 - 11:16 PM.