Hi,
I would like to make an exchanger with two shells with the fluid side process in series in the two shells and the cw (tubes side) in parallel. Do you know if it is possible and how to set it to Aspen EDR?
I made a small scheme to better explain the problem.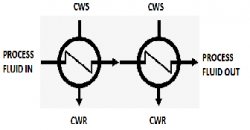 Thank you for your cooperation.