Positive displacement (PDM) and turbine (TMs) are the two types of flowmeters acceptable as primary measurement instruments for custody transfer of liquid petroleum products.
TMs use a bladed rotor contained in a flow tube that is axially suspended in the direction of flow. As fluid passes through the tube, the rotor spins at a rate proportional to the fluid velocity. Blade rotation is generally detected by a sensor whose output is used to infer a volumetric flowrate.
A PDM divides the flowstream into discrete volumetric segments. A known volume of fluid is mechanically isolated in the meter and passed from inlet to outlet by the alternate filling and emptying of compartments. This process is usually translated into a rotary motion that operates a counter. Most PDMs are direct reading and do not require an external power source. Each segment of fluid volume passing through the meter is counted to yield a measure of total volume. Terms used to describe the type of PDM include rotating disk, oscillating piston, sliding vane, bi–rotor and oval gear designs.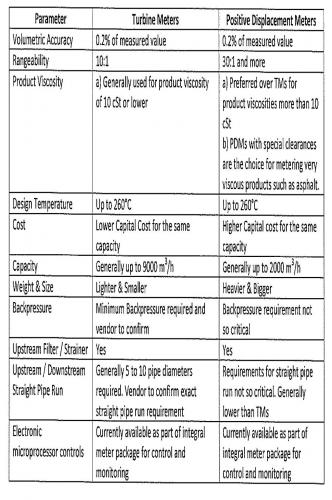 TMs infer a volumetric flowrate from a velocity measurement whereas PDMs do not measure flowrate but measure totalized volume directly.
Relative comparison of TMs and PDMs based on several parameters are described in the attached table.
Enjoy reading and looking forward to have comments from members of "Cheresources".
Regards,
Ankur.