5






Selection And Sizing Of Marine Loading Arms For Petroleum (Black / White Oil) Products
04 October 2014

Dear All,
Todya's blog entry provides a procedure for selection / sizing of marine loading arms
Vessel / Tanker Design Discharge Capacity
(Figure 1)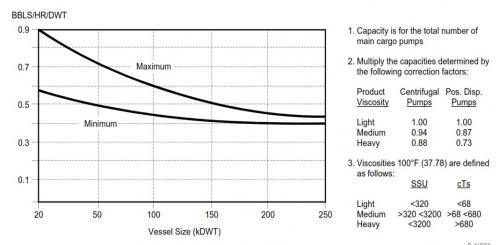 Oil Tanker Manifold Diameters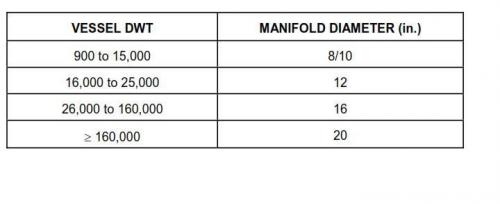 Loading Arm size should not be larger than a maximum of two sizes of the the ships manifold diameter. A smaller size loading arm compared to the ship's manifold diameter is acceptable using a reducing spool piece.
Flow Rate Vs No. of Marine Loading Arms (Figure 2)
Based on limiting flow velocity of 11 m/s (36 ft/s)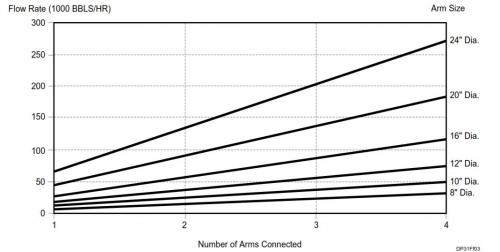 Maximum Marine Arm Loading Flow Rates
Based on Limiting Flow Velocity of 11 m/s (36 ft/s)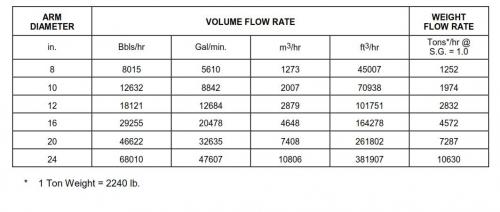 Example CalculationInputs
Max Vessel Size = 100,000 DWT
Product Viscosity = Heavy
Pump Type = Centrifugal
Outputs
bbls/hr/DWT = 0.6 (From Figure1)
Correction factor = 0.88
Max. Discharge Rate = 52,800 bbls/hr
Max. Arm Size = 16 inch
No. of Arms = 2 (From Figure 2)
Note
:
Part III, Section 2-Guidelines (page 40) of the document "Design & Construction Specification for Marine Loading Arms" which is issued as a standard for MLAs by the "Oil Comapnies and International Marine Forum" with the acronym "OCIMF" recommends a maximum velocity of 12 m/s through marine loading arms.
Looking forward to hear comments from the members of the "Cheresources" community.
Regards,
Ankur.