Hi All,
I face an engineering problem on which I cannot find an answer. Hence I was wondering whether someone on this forum could help me out.
Please find below our situation. Lets image we have a cylindrical vessel with an open bottom. This vessel is submerged in seawater. This situation is represented by the left image. In this case air is trapped within the vessel. The volume of the air is close to identical to the inner volume of the vessel.
Than we submerge the vessel all the way to 3000 meters of seawater. The hydro static pressure increases to about 300 bar and acts on the gas. As a consequence the gas is compressed and will shrink to a volume of about 1/300 of its original volume. This entrapped air resides at the top of the internal vessel volume.
Now I have two questions:
1. At what rate will the air dissolve in the seawater? (e.g. how long will it take before half the air is dissolved in the seawater?)
2. Will the entire air be dissolved into the seawater or will a part of it remain?
It doesn't have to be seawater, also guidance on normal water would already be great.
Our parameters:
- Internal volume of the vessel: 1.3 m3
- Temperature at 3000 meter, 4 degrees Celcius.
- Air temperature when submerged: 20 degrees celcius.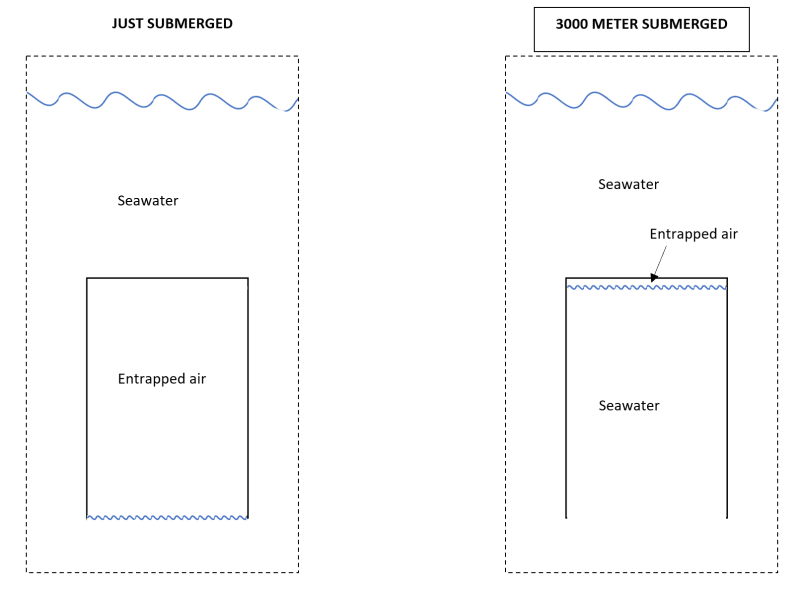 Any guidance would be greatly appreciated.
Thank you.
With kind regards,
Peter
Edited by peterzwart, 12 June 2020 - 05:31 AM.