So, you've likely noticed some changes within the community section of our site. The new face lift is the first step in our effort to better integrate the community portal with the rest of the site. Let's get a few items out of the way quickly:
All of your posts, profile information, private conversation, and other information is all still here and perfectly in tact. All of the links to your favorite message are the same.
The changes made (which we'll cover in detail later) are cosmetic and the addition of features. None of the features have been removed. Functionality is only getting better.
Just in case you hate (let's say "thoroughly dislike") the new look of the community portal, we've made it possible for our members to revert back to the previous style so breathe easy.

How Important is Our Community

As a member of our online community, you represent the most important segment of our audience.....period. Quite simply, you're the folks how take the time to interact with and assist one another on a consistent basis. We're working to better the community portal portion of our site to bring the technology up to date with our new "social media" world. We want everyone to be happy with the look of the portal. So, if you're not a fan of the new look, we'll show you how to revert back to the overall style that we used previously. In the coming months, the body of the site where the articles, online store, and other information resides will be converting over to a look and feel similar to what you're now seeing here. It's all in an effort to be more consistent and to ultimately have a single login for the entire site.
We can't possibly test our new look in every browser, so if you notice anything that looks out of place, please use the
Contact
link and let us know.
The new design is meant to be lighter, cleaner, and ultimately faster. It used to be that we only had to be concerned with the various web browsers that our visitors were using. But, more and more, people are accessing the community via mobile computing devices including smart phones and tablet devices. The centered devices consistently performs better over a wider variety of devices. So, now you have a better understanding of the change and what's coming up.
Great...I Understand the Change, Now How Can I Get Back to the Old Style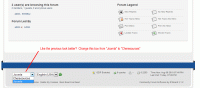 If you're a registered member of the community, you can navigate to the main forum page and go all of the way to the bottom of the page. You'll see a link reading:
"You are using a theme designed for your browser.
Click here to manually choose a theme
"
After clicking the link, return to the same location on the page at the bottom. Now, on the right side of the screen, you'll see a pull-down box reading "Joomla". To revert back to the previous community design, simply pull down this box and select "Cheresources". We're hoping that the majority of you like the new look, but it was made with the full intention of allowing you to continue to use the wider format if you'd like.
Now that we've had a chance to explain a little about the changes, let's go over some of the new features available. In case you missed some of the features that have been developed over the previous few months, you can review those here:
Post #1
and
Post #2
Introducing Topic Preview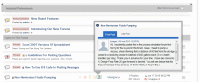 When browsing the various posts in our community, you have hover over the white area to the right of the topic title to activate a green up arrow. Click this area and you'll see a brief preview of the topic without having to load fully load it.
New Site Menus at the Top

At the top of the screen, you notice a new menu set with links like "Home", "Online Store", "Articles" and others. These are links to other main sections of the site added to assist in navigation.
Twitter Connect
In addition to Facebook integration, we've now added integration with Twitter. In conjunction with this change, we've added the latest status updates to the main page of the community. From there, you can see all of the status updates from all of the member and even reply to them. You can pipe your Twitter and Facebook status updates right to our community portal. Just as you could sign in with you Facebook credentials previously, you can now do the same with your Twitter account and bring in your profile information and picture from Twitter.
I-Phone App and More on the Way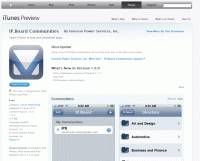 If you're an I-Phone or I-Pad user, you can now access our community via a newly released I-Phone/I-Pad app which is available in the
I-Tunes store
. An application for Andriod based devices is expected soon as well. This adds the power of the our community in the palm of your hand and makes it easier to post your status updates as well.
We're very excited about these mobile application developments. Image being able to be out in the field, take a photo, post a message, and solicit advice from your favorite technical community all while out of the office!
Introducing Our Community Blog System


You may have realized by now that you're reading this posting in a format that is a little different that the question and answer format of the message board. The message board has always been a great place to post your questions or to provide answer or insight into problems to other community members. However, what we've been lacking is a place where our community members can sound off about topics related to the chemical and other industries.

Our new blogging system is available to all members and provides our community members with a place where they can share thoughts and spark discussions about a wide variety of topics.
Questions should continue to be posted in the message board.
Here are some examples of postings that may make better blog posting than message board entries:
Share your thoughts on current events relating to industry or energy policy.
Share a technical article that you've written or just a quick tip.
Share career advice
Discuss new features that you'd like to see in our community.
Just as you'll have a chance to do at the end of this blog posting, community members can post comments and assign ratings to your blog postings. As we get started with blogs, all postings will require approval prior to being posted. The most recent blog entries will be featured on the main page of the community portal (and ultimately on the main site as well).
Getting started with your own blog is easy. Let's review the set up:
First, register or login to the community portal
In the upper right portion of the screen, select "My Setting".
Click on the "Blog" tab and create and name your blog.
Now, "My Blog" will be added to your pull down menu in the upper right portion of the screen.
After selecting "My Blog", you'll see a menu block labeled "Add Entry".
Blog This!


After setting up you're blog, you'll notice that in the message board area you'll see a "Blog This" button in topics. You can use this button to pull topics over to your blog for further expansion. For example, let's say that you read a posting about a particular pump problem that a community member is having lately. You can use the "Blog This" button to insert the topic post right below your blog post where you describe a similar situation and how you ultimately solved the problem. Then, you can post a reply in the forum pointing to your blog posting.
Using the Blog This! feature is appropriate when the information that you want to add in your blog is general, but valuable, in nature. Direct replies that are specific to the problem being discussed in the message board should be kept there.


Screen shots of "Blog This" in action are below.