Our new download section is officially a hit! It's quite clear that the members of our community love this new feature. One place on our site where you can find the very best download files.
We launched the Download section at the beginning the year via our blog entry
What's New in 2011?
. Since that time, we've moved most of the downloads into this new section and even pulled the best attachments from forums and placed them in the
Hall of Fame Community Downloads
section.
A couple of features that we haven't yet mentioned is that the Download section includes version control and it incorporates the same "Like" system as the rest of the community.

Version control is used to make any notes about a file when it is added to or changed. The "Like" feature is great! If you download a file, be sure to click the "Like" button as shown above and you'll receive instant notification if the file is changed in the future. These are great features for a system of files that we'd like to see added to over time.
Now, it's your turn to submit your favorite MS Excel sheet to help us build our library.
If you submit a file that is accepted and placed into the Downloads section, we'll upgrade your to ChE Plus status!
Even if you've downloaded a file and added information to it. Send it to us so that we can add it to the master file for everyone to use.
You can see what files are available to our premium community members in the
ChE Plus section
of the Downloads area. If we publish your file, you'll get access to a great library of technical articles, equipment specification sheets in MS Excel, and additional spreadsheet calculators. The idea here is simple...if you share, so will we.
Ready to submit your files?
For consideration, submit your files through our support system. It's really quite easy:
1. Once logged into your account, click the down arrow next to the word "Messenger" in the upper right part of your screen. Select "Member Support":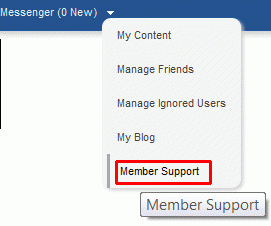 2. Now click on "Support" on the left menu: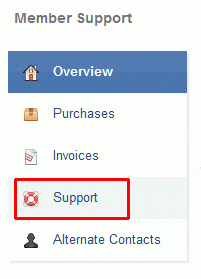 3. Next, click on "New Request":

4. Now, give your submission a title, select "Download Submission" for the type of request, tell us a little bit about your submission, attach the file, and then click on "Submit".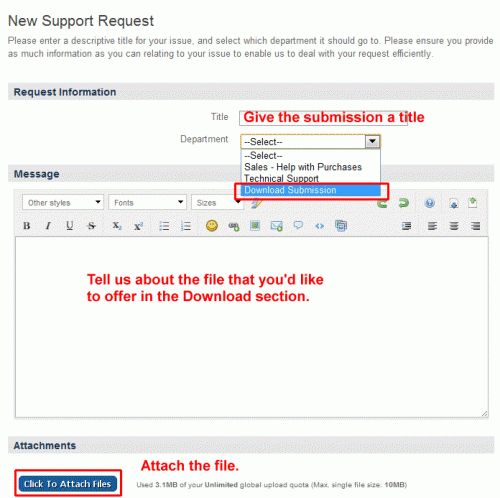 That's it. We'll review the file and let you know if it's accepted. If so, we'll upgrade your account to ChE Plus level and you'll have access to even more great information!