Our latest update to our site is complete and this one was a long time coming. I'm sure that many of you who frequent our forums long ago bookmarked the address to get straight to the forums. I can't say I blame you as it wasn't as easy as it could be to get around from the main index page at:
www.cheresources.com
Well, that has changed. The main index page of the site now serves as an excellent landing page to see what's going on at the site: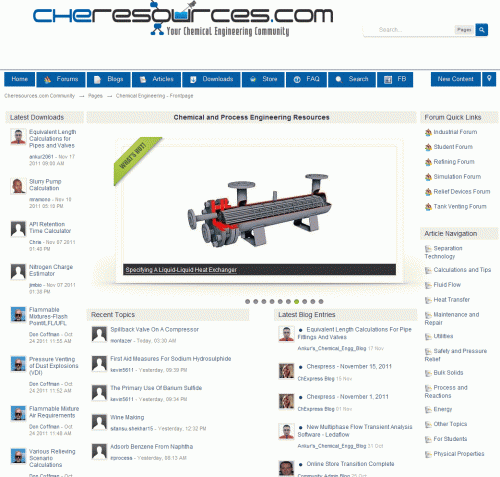 From the index page, you can now quickly jump to the most popular forums, see the latest Download files, articles, blog postings, status updates, and more. You can also find the login links and main menu are now accessible at the index page as well.
We've also made a couple more additions. As the site grows larger and larger, searching efficiently has always been a big challenge. The search button on the main menu will provide a way to search the entire site powered by Google. But, that wasn't really good enough. Sometimes, you may only want to search forum postings, or downloads, or another section of the site. The search box next to the logo will limit your search to the section of the site that you're currently viewing (forums, articles, downloads, blogs, or store). But, you can also click the section name next to the search icon and activate the site wide Google search from there as well or even search a different section of the site: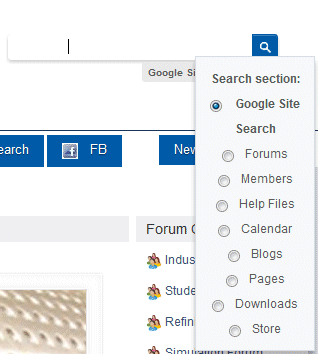 This should provide great flexibility in helping you find what you're looking for here at Cheresources.com.
Also, we've added the ability to add and view customer reviews for our online store titles. If you make a purchase in the online store, you'll notice a "Write a Review" link is now available to you:

We continue to make great strides in pulling all of the sections of the site under one consistent look and feel. There's still much work to do, but in the mean time, the legacy content menu items at the very top will help you get to the older content until we complete our transition.