Following my last blog posting entitled "
Enjoy Our Community, But Protect Your Email Address
", another blog posting about how to safely interact with other community members seemed appropriate.
There are a couple of options available to you. First, you need to be able to find the contact information for the other community members. While most members make their email addresses available to other members, some may prefer to use the private messaging (PM) system in the community. If you see a member's display name in a forum or blog posting, you can click on the red arrow beside their name to activate a pop-out which will show a profile summary which will include their email address (if made available to members) or you can use the PM button to shoot them a quick PM.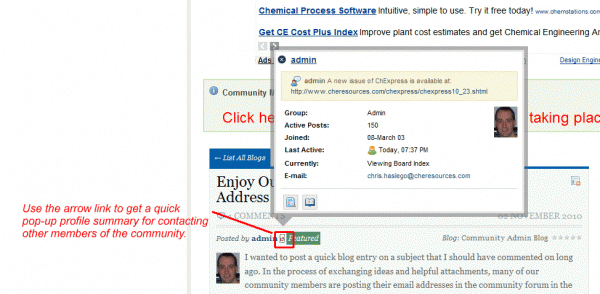 By default, when members are sent a PM, they'll also receive an email notifying them that they have a new message. If they've elected to turn this option off, then they'll be notified of the message the next time they log in.
Alternatively, you can also click on any member's display name to be taken to their online profile as well. From their profile, you can find their community postings, make a friend request, and more!
Also, you can click "Members" in the "Community Links" menu bar (blue bar under main menu) and then click on "Apply Filters" to search for other community members as well.
Our community system is powerful and you'll find that the more time you spend here conversing with your friends and peers, the more you'll learn. Take some time to get know how our system functions as it will be spreading throughout Cheresources.com over time.