When browsing around our community, you may have noticed that some members are decorated with "ChE Jedi" or "Excellent" reputations. I thought I'd take some time to explain these ratings and ask for suggestions for changes. Drop your suggestions in the comments below.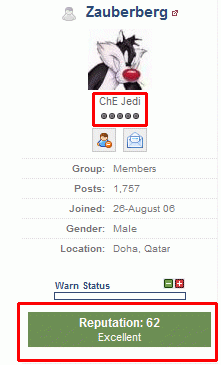 Member Status
Member status is our measure of the number of posts or topics made by each community member. I'll choose one of our esteemed community members
Zauberberg
to use as an example. In the image above, you can see from his abbreviated profile view shown in the forums that his Member Status is "ChE Jedi". But, what does this mean?
Our Member Status rankings are currently set as follows:
0-9 posts = Newbie
10-30 posts = Member
31-50 posts = Veteran Member
>50 posts = ChE Jedi
We can set these to any values that you'd like and I chose these long ago during the process of setting up the community section. I'm thinking that maybe it's time for some feedback from the community. We can set as many levels as we'd like and call them whatever we wish. For example, we could have:
0-20 posts = New to Community
21-40 posts = Associate Community Member
41-60 posts = Community Member
61-150 posts = Senior Community Member
>150 posts = Hallmark Community Member
Again, I'm just making them up. We could use whatever theme you'd like.
Reputation
The reputation system is different. This is a peer-review system where other community members can assign pluses or minuses to community contributions.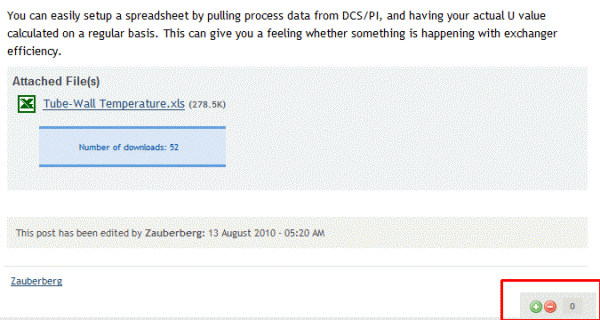 For example, if someone gave a terrific answer to a question in the forums, you can click the "Plus" button to improve their reputation by one point. Alternatively, if someone posts a question with little or no detail, that may be grounds for a "Minus" to their reputation.
Currently, our reputation levels are set as:
< -20 = Bad
-10 to -19 = Poor
-9 to +9 = Neutral
+10 to +19 = Good
>20 = Excellent
Just a side note: Our administrators and moderators have their reputation set to 20 by default and are not eligible to receive repuation points
Again, if you think adjustments should be made to this scale, give me your comments below.
Remember, you can always go to your Profile and click on the "Reputation" tab to see who has given you reputation points and for which posts. The idea is to reinforce quality postings and encourage improvement for postings that need a little work.
I look forward to hearing your feedback.