In a trend that you'll see continuing over the next year, ChExpress will be moving from it's current location on the main body of the site, into our community section.
ChExpress, in case you don't follow the updates, is our chemical processing industry new brief producted by our editor Christa Semko on a bi-weekly basis. It's meant to give you a 5 minute overview of happenings in the industry.
ChExpress is perfectly suited for our blog format. Christa is all set up and ready to perform her first "beta" installation of ChExpress later this month. This will act as her trial run before moving ChExpress into our community blog system full time next year.
If you want to receive notifications when the ChExpress blog is updated, simply visit the blog at:
http://www.cheresour...chexpress-blog/
and click the "Watch" icon at the top of the page. Then, whenever Christa posts updates, you'll be in the know!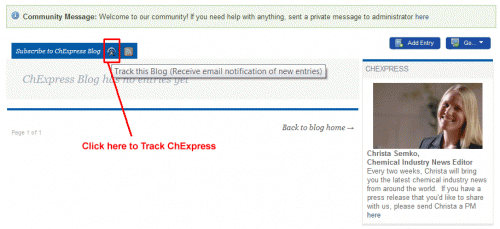 The new format will also give you a chance to communicate with Christa in the comments section and send her your feedback.