2001 Beychok-Montemayor Award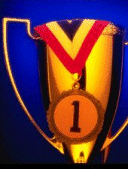 The Beychok-Montemayor Award will be given to the best article presented at The Chemical Engineers' Resource Page each year. The award is given in honor of Mr. Milton Beychok and Mr. Art Montemayor who have spent countless hours in the various online chemical engineering communities helping to educate and guide many young chemical engineers. The award graphic on the left will be placed at the top of the winning article so you'll know right away that you're about to read an award winning article here at the Resource Page.
We'd appreciate it if you'd take the time to vote below or you can go straight to the front page.
Last year's winner was "Experienced-Based Rules of Chemical Engineering".